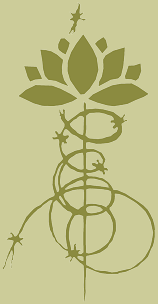 w e l c o m e t o t h e
u. s. t i b e t c o m m i t t e e
Last updated February 2019
THE INCREDIBLE SECRET OF MARCH 10
A Talk in Tibetan by Jamyang Norbu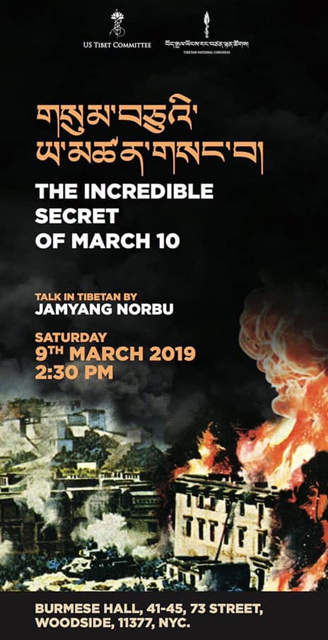 Saturday March 9, 2019
2:30 pm
Burmese Hall
41-45 73rd Street, Woodside, NY 11377
Presented by U.S. Tibet Committee and Tibetan National Congress
---
RESIST XI JINPING: DICTATOR OF THE UNFREE WORLD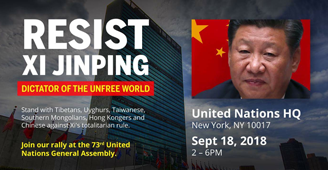 Tuesday, September 18 at 2:00 PM – 6:00 PM EDT
Dag Hammarskjöld Plaza
East 47th St and 1st Avenue, New York, New York 10017
Join 'RESIST XI' rally at the 73rd United Nations General Assembly.
Under Xi Jinping's increasingly totalitarian rule, crackdowns have intensified against voices demanding freedom, democracy, and human rights across China and its occupied territories. Despite the repression, resistance against Xi's brutal anti-democratic tactics continues to grow. Stand with Tibetans, Uyghurs, Southern Mongolian, Taiwanese, Hong Kongers and Chinese against Xi's Totalitarian rule.
Join us to send a clear message to the international community that Xi Jinping is not the savior of the free world, but a dictator of the unfree world.
ORGANIZERS:
World Uyghur Congress
Keep Taiwan Free
NY4HK - New Yorkers Supporting Hong Kong
Rtyc Nynj
Southern Mongolian Human Rights Information Center
Uyghur Human Rights Project
Us-Tibet Committee
China Human Rights Accountability Center
Initiatives for China ????
Uyghur American Association
Chu Shi Gang Druk
Unrepresented Nations and People Organization (UNPO)
Students for a Free Tibet
More details here.
---
USTC SPECIAL EVENTS THIS SEPTEMBER 2018
Tibet Screenings and Discussions
Sundays at 2pm; September 9, 16, 23 & 30
Tibet House
22 West 15th Street, New York, NY 10011
Sunday, September 9, 2018 at 2PM
Tibet Screening and Discussion – Movie 'Kundun'

Kundun is a 1997 epic biographical film written by Melissa Mathison and directed by Martin Scorsese. It is based on the life and writings of His Holiness the 14th Dalai Lama.
"Kundun" meaning "presence", is a title by which the Dalai Lama is addressed. Kundun was nominated for four Academy Awards.
Sunday, September 16, 2018 at 2PM
Screening and Discussion – Documentary 'Cry of Snow Lion'
Cry of the Snow Lion paints a very grim picture of freedom lost and cultural genocide, harsh occupation devoid of justice. Still, it is about people that remain unbroken.
Ten years in the making, this award-winning documentary was filmed during a remarkable nine journeys throughout Tibet, India and Nepal.
Sunday, September 23, 2018 at 2PM
Tibet Screening and Discussion – Documentary 'The Shadow Circus: The CIA in Tibet'

Talk/slide show by Robert Weinreb, of early Tibetan community in New York (tentative) show documentary The Shadow Circus directed by Tenzing Sonam and Ritu Sarin, is based on extensive primary research, a result of the fact that Sonam is the son of the late Lhamo Tsering, chief field officer for the CIA in Tibet and Mustang.
The Shadow Circus: The CIA in Tibet reveals a little-known aspect of Tibet's recent history: the country's armed struggle against the invading forces of Communist China. Contrary to the generally held preconception of a deeply religious and peace-loving people, the Tibetans fought a long and bloody – though ultimately, unsuccessful – guerrilla campaign. They were aided in their efforts by an unlikely ally, the CIA.
Sunday, September 30, 2018 at 2PM
Tibet Screening and Discussion – Documentary 'Leaving Fear Behind'
Leaving Fear Behind (in Tibetan, Jigdrel) is a documentary shot by Dhondup Wangchen and Golog Jigme, two Tibetans from inside Tibet, who longed to bring Tibetan voices to the Beijing Olympic Games. followed by talk by Jamyang Norbu, Novelist, historian, playwright and polemicist about his meeting with His Holiness the Dalai Lama in Dharamsala on May 28, 2018.
The 25-minute documentary resulting from Dhondup Wangchen and Jigme Gyatso's footage was described by The New York Times as "an unadorned indictment of the Chinese government". The film was compiled from 40 hours of interview footage shot by a single camera.

Special Thanks to Tibet House US.
---
---
GUEST SPEAKER PROFESSOR HON-SHIANG LAU:
CHINESE PRE-1949 OFFICIAL RECORDS OVERWHELMINGLY SHOW THAT TIBET WAS NEVER PART OF CHINA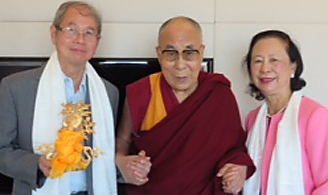 The People's Republic of China (PRC) asserts vehemently that Tibet has been a part of China "since ancient times." The PRC has made further negotiations with the Tibetan Government in Exile (TGIE) contingent on the accedence by the TGIE to this doctrine. However, an abundance of unequivocal evidence in Chinese pre-1949 primary-source governmental documents and government-sanctioned publications show that, contrary to the PRC line, Tibet was never part of China before 1949. In this lecture, a small sample of these evidence pertaining to Ming dynasty (1368-1644) and Qing dynasty (1644-1911) will be presented.
Hon-Shiang Lau received his Bachelor of Engineering from the University of Singapore in 1969 and Ph.D. in business administration from the University of North Carolina at Chapel Hill in 1973. He was Regents Professor of Management Science at Oklahoma State University from 1987 to 2000 and Chair Professor of Operations Management at the City University of Hong Kong from 2000 to 2011. In 2010 he was identified by a U.S. academic journal as one of the 50 most widely-published operations-management scholars worldwide. He retired in 2011 to devote most of his time to learning Chinese history.
Friday April 14, 2017 - 12:00-1:30 pm
Columbia University, New York NY
Friday April 14, 2017 - 7:00-9:00 pm
Tibet House, 22 West 15 Street, New York NY 10011
Sponsored by U.S. Tibet Committee and Tibet House
Sunday April 16, 2017 - 3:00-5:00 pm
Burmese Hall, 41-45 73rd Street, Jackson Heights, NY 11377
---
A TIBETAN'S JOURNEY FOR JUSTICE
---
TIBET: UNDER THREAT FROM EXTREME CLIMATE CHANGE IMPACTS
Home to the largest store of fresh water outside the Arctic and Antarctic, Tibet is on the frontline of global climate change and under serious threat from China's failed policies. Like the Arctic, Tibet is experiencing profound climate change impacts. China's hydro-damming and mineral extraction in Tibet, combined with climate change, threaten to destroy Tibet's unique ecosystems, disrupting life for a billion people downstream and across Asia. This website highlights the environmental issues affecting Tibet – a country of global geopolitical importance – prior to the important COP21 negotiations in Paris, November 2015.
---
USTC MARCH 10 STATEMENT
(New York) March 10, 2015. US-Tibet Committee (USTC) joins Tibetans and Tibet supporters around the world in commemorating Tibetan National Uprising. Fifty-six years ago today, Tibetans in Lhasa rose up to protect His Holiness the Dalai Lama and oppose the Chinese occupation. China responded with military force and during the ensuing fight and chaos, His Holiness was able to escape into exile in India. The 1959 rebellion was a nationwide Tibetan revolution against Chinese imperialism. Tibetans from all three regions (U-Tsang, Kham and Amdo) and from all walks of life joined in the resistance. The suppression of the rebellion was so brutal that the Peoples Liberation Army (PLA) killed over 80,000 Tibetans in 1959 alone. On this day, Tibetans and Tibet supporters recall the sacrifices Tibetans have made over the decades in resisting Chinese colonialism and protecting Tibet's unique civilization. In New York City, Tibetans will hold rallies at the United Nations and the Chinese Consulate.
In March 2008, another mass protest sprung forth. Thousands of Tibetans across the Tibetan Plateau protested the Chinese occupation of Tibet and called for the swift return of the H.H. the Dalai Lama. Once again China responded with brute force and over 200 Tibetans were killed and thousands detained. Many Tibetans who were arrested in 2008 remain in prison today. Despite having overwhelming might and numbers, the Chinese Communist Party (CCP) has never extinguished the nationalist spirit of the Tibetan people.
Since 2008, over 140 Tibetans have self-immolated to protest ongoing human rights violations and atrocities against the Tibetan people by the Chinese Government. Many of these self-immolators have called for Tibetan independence and the return of H.H. the Dalai Lama. Moreover, there are over 1700 Tibetan political prisoners in Chinese jails and detention centers, according to the Congressional-Executive Commission on China, a number which certainly understates the actual number of political prisoners.
The UN Human Rights Council has never condemned China for its human rights abuses in Tibet. China has successfully used its political influence at the UN to block any attempt to criticize China for its poor treatment of the Tibetan people. The former UN High Commissioner for Human Rights, Navi Pillay, said in 2012 that she was disturbed by "continuing allegations of violence against Tibetans seeking to exercise their fundamental human rights of freedom of expression, association and religion," and pointed to "reports of detentions and disappearances, of excessive use of force against peaceful demonstrators, and curbs on the cultural rights of Tibetans." The current UN High Commissioner, Zeid Ra'ad al Hussein, has expressed a desire to visit Tibet but China has not yet agreed to this request. We call upon the UN High Commissioner to continue pressing China for a visit to Tibet and to conduct a thorough and unimpeded investigation into the human rights situation in Tibetan areas.
The United States Government and U.S. Congress have in the past shown broad support for Tibetan human rights and Tibetan exiles. We call upon Congress and the U.S. Government to continue funding Tibet-related projects such VOA's and RFA's Tibetan news services and funding for Tibetan refugee organizations. USTC also calls upon Congress to pass the Reciprocal Access to Tibet Act (HR 1112) that was introduced by Representatives Jim McGovern (D-MA) and Joseph Pitts (R-PA). This legislation would deny access to the United States by Chinese officials who are responsible for creating or administering policies on travel to Tibetan areas until China eliminates discriminatory restrictions on access by Americans to Tibet. USTC urges Americans to call and write their Congressional Representatives to support HR 1112.
For the past 30 years the Central Tibetan Administration (CTA) has pursued the Middle Way Proposal for Tibetan autonomy. It has not achieved any positive results and even His Holiness recognized its failure. The CCP continues to oppress the Tibetan people and viciously attack His Holiness in their propaganda. Time and time again, the Chinese Government has rejected the Middle Way Proposal even after the CTA conceded not only Tibet's independence but also abandoned democracy for Tibet. The Middle Way Proposal has been reduced to asking merely for cultural and religious autonomy while political control would remain with the Communist Party (albeit by Tibetan communists). Why Tibetans in Tibet would accept the status quo of Communist Party rule and give up their right to elect their own political leaders has never been explained. There is democracy for Tibetans in exile and so should there be democracy for the six million Tibetans in Tibet.
Despite the lack of any positive response from the Chinese Government (or Tibetans in Tibet for that matter), the CTA continues to promote the Middle Way as the best solution for Tibet. The basis for such a claim or the confidence that the Middle Way will eventually be accepted by China has never been shown. Tibetans inside Tibet, meanwhile, steadfastly demonstrate their desire for ending Chinese rule over Tibet. The vast majority of Tibet protests have been for either independence or freedom from China, but none have been for autonomy within China. The Tibetan people are bypassing the CTA and seeking their own solution for the Tibet. We hope the CTA will return to the policy of seeking Tibetan independence through non-violent means. Non-violent resistance has proven historically to be more successful than violent revolution. It has worked in other countries and can work in Tibet too.
Tibet, the Land of Snows, gained its independence from the Manchu Qing Dynasty in 1913. It happened before and can happen again.
Bhod Gyalo! Tibet will be free!
US-TIBET COMMITTEE
---
---
UNITE FOR TIBET | A SOLUTION FOR TIBET

UniteForTibet.org, a global initiative by over 100 Tibet Groups on five continents, urges like-minded world governments to come together to find solutions to end the human rights crisis in Tibet.
---
STAND WITH A FELLOW NOEL LAUREATE
Urge Nobel Peace Laureates to boycott the 14th World Nobel Peace Summit in South Africa, unless His Holiness the Dalai Lama is permitted to attend. Sign the petition now.
---
"STEPS OF SNOW" by TSEWANG LHAMO and HORTSANG LHALUNG TSO
---
DECHEN PEMBA, FOUNDER and EDITOR of HIGH PEAKS PURE EARTH
Dechen Pemba, the founder and editor of High Peaks Pure Earth calls for freedom of speech in Tibet.
---
THE RANGZEN IMPERATIVE : LECTURE IN TIBETAN WITH JAMYANG NORBU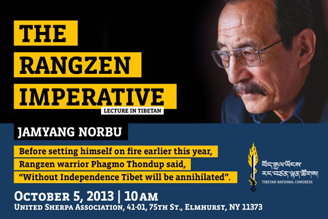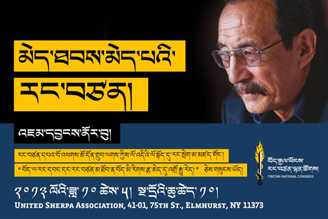 October 5, 2013 | 10 AM
United Sherpa Association
41-01 75th Street, Elmhurst, NY 11373
---
WORLD LEADERS: UNITE FOR TIBET

60 years of China's rule has created a crisis in occupied Tibet. Repressive policies and a severe crackdown have provoked an unprecedented wave of self-immolations by monks, nuns and laypeople, the majority of whom have lost their lives.
A surge in resistance protests, with demonstrators calling for freedom in Tibet and the return of the Dalai Lama, were met with Chinese security forces opening fire on peaceful demonstrators, killing at least five Tibetans and seriously injuring many more. Thanks to Students for a Free Tibet for making this video.
---
INDEPENDENT TIBET 1913-1950
Q&A with JAMYANG NORBU & ELLIOT SPERLING
Q&A session with Jamyang Norbu and Elliot Sperling following their talk on 'The Thirteenth Dalai Lama'a Prophecy: Maps To Rangzen, Even At This Late Date' - Tibet House US (February 24, 2013)
---
RESEARCH BY FILMING FOR TIBET CONCLUDES THAT CHARGES AGAINST JIGME GYATSO ARE BASELESS
February 18, 2013
Lhamo Tso, wife of Dhondup Wangchen, launches campaign for Jigme Gyatso
Filming for Tibet information has collected, with the help of Lhamo Tso, information about Tibetan monk Jigme Gyatso (aka "Golog Jigme") that clearly indicate the charges against him of manslaughter are baseless. Lhamo Tso, an old friend of Jigme Gyatso, is appealing to the US government and governments around the world to request the officials in China to stop the manhunt.
Since the surprising charges against Jigme Gyatso first appeared, Filming for Tibet has tried to shed light on the case and started research into the matter. The findings of this research are as follows:
1. Over the past weeks and months, individual reports appeared on Facebook by Westerners living in China and Tibetans who know Jigme Gyatso that protest against the idea of manslaughter. Filming for Tibet representatives have met with several of these voices in person and have been reassured that the background for the PSB search are baseless and motivated by other, unknown, reasons.
2. There has been a systematic outreach by Filming for Tibet to reliable sources in Tibet who say:
a. There has been no case of manslaughter whatsoever that can be brought in a connection with Jigme Gyatso
b. His whole personality is against violence. It is unthinkable that he could bring harm to any person.
c. Repeatedly, the opinion was voiced that Jigme Gyatso's political and social activism might be the real reason for the arrest and the harsh statements following his disappearance/flight from the PSB. See the photos below for his involvement with relief work after the earthquake in eastern Tibet in 2010.
3. There have been a series a phone call to PSB in Gansu. Analysis of the recordings of the phone calls show that the PSB official are embarrassed by their initial charges and show no signs of confidence in the reason for their search campaign. Repeated requests to repeat the charges are met with either complete silence ( Video:https://www.facebook.com/photo.php?v=384667598286240 ) or evasive statements such as claiming not to be able to hear well or not understanding the other person ( Video:https://www.facebook.com/photo.php?v=10151152729405423 )
Lhamo Tso, wife of Dhondup Wangchen, has been friends with Jigme Gyatso for more then 16 years. Currently in the US, Lhamo Tso is carrying out advocacy work and appealing to the US Secretary of State to take action to ensure the safety of Jigme Gyatso. In a letter to Secretary of State John Kerry dated January 25, 2013, Lhamo Tso wrote: "Today, I write to you requesting your support for Jigme Gyatso, also known as Golog Jigme, a man who is very dear to my family. Jigme Gyatso is a Tibetan monk and an old friend of mine who helped my husband to realise the film […] Together with friends and supporters of my husband, I am trying to find ways to help him. I am convinced that if foreign governments inquire about his case, some level of protection will be provided to him. Therefore, I request the US government to approach the Chinese government and ask them about the case of Jigme Gyatso."
Contacts:
Lhamo Tso, +1-510-681-3244, (Tibetan)
media@leavingfearbehind.com
Wangpo Tethong
"Filming for Tibet" spokesperson, +44 20 3286 7681 (English, German, Tibetan)
media@leavingfearbehind.com
Dechen Pemba
"Filming for Tibet" spokesperson, +44 20 3286 7681 (English)
media@leavingfearbehind.com
---
WHITE HOUSE PETITION FOR TIBET
US-Tibet Committee (USTC) urges all Tibetans and Tibet supporters to sign the online White House petition to support Tibet. Go here to sign the petition.
---
A SONG BY LOLO: "RAISE THE TIBETAN FLAG, CHILDREN OF THE SNOWLAND"
"Raise the Tibetan Flag, Children of the Snowland" By Lolo from HPeaks on Vimeo.
Tibetan singer Lolo, 29, from Dhomda town in Yulshul county in the Yulshul (in Chinese, Yushu) Tibetan Autonomous Prefecture, was apprehended on April 19.
The lyrics of the title track, one of 14 songs on the album, calls for independence for Tibet, the unity of the Tibetan people, and the return of Tibet's exiled spiritual leader the Dalai Lama.
---
CONNECTICUT STATE SENATORS SPEAK OUT FOR TIBET
Watch on YouTube >>


US-Tibet Committee (USTC) is pleased to announce the courageous stance made on April 27, 2012 by Connecticut State Senators Toni Boucher and Scott Franz before the Connecticut State Senate in support of human rights in Tibet. Ms. Sandra Ross, a member of USTC's Board of Directors and concurrently serving as the director of the USTC Connecticut Chapter, initiated efforts to raise the issue of Tibet at the state level. In her statement Ms. Ross said "national boundaries, real or imagined, should not exonerate any government from violations of human rights. On behalf of the Office of Tibet (New York), the US Tibet Committee, and the Tibetan people and their supporters, we commend Senators Toni Boucher, Scott Franz, and the Connecticut Senate for supporting the Tibetan people in their great hour of need."
Following is State Senators Brocher and Franz' statement read on the floor of the Connecticut State Senate on April 27, 2012:
"On March 29th the United States Senate approved a Senate Resolution 356, calling on the Chinese government to end its repressive policies toward Tibet. A similar resolution has also been introduced in House of Representatives H.Res. 609. These resolutions, enjoying wide support among federal legislators, on both sides of the political aisle, affirmed the United State's friendship to Tibetans and our continuing support in their struggle to secure religious and political freedom.
Despite the courageous efforts of many Tibetans, foreign journalists, diplomats and international organizations have only severely restricted access to Tibet. The Chinese government continues its practice of arbitrary detention of Kirti monks, and other peaceful dissidents. The Dalai Lama, though unable to return to his country, remains a powerful symbol of its proud past and traditions, and continually speaks courageously on its behalf and for the cause of peace and justice throughout the world.
Our U.S. Congress has resolved to remain steadfast in its support of the Tibetan people and in its commitment to one of the most important human rights issues of our time. It has called upon the Chinese to reevaluate its policies in Tibet, to resume a dialogue with the Dalai Lama's representatives, and to allow the establishment of a U.S. Consulate in Lhasa. In the spirit of these Congressional resolutions, we encourage the State of Connecticut to express its support for the people of Tibet in their struggle for independence and freedom.
I can think of no other nation or state that should more prominently declare its support and appreciation for the efforts of these valiant people, as we were founded on the very principles that Tibetans are espousing and dying for today."
In addition. USTC continues to lobby Congress in support of H Res 609, a resolution expressing support for the Tibetan people in the US House of Representatives. State Senators Boucher and Franz and Ms. Ross said: "We ask you to join with the State of Connecticut, expressing support for the Resolution in the US House for H Res. 609, so that state by state, the people of America are calling on the Chinese Government to end their brutal crackdown in Tibet and address the legitimate grievances of the Tibetan people."
As the number of self-immolations increase (there are now over 30 self-immolations), it is critical to put pressure on the Chinese leadership to withdraw its troops, police, and other security agents camped in monasteries and Tibetan residential areas in order to relieve the anger and fear of the Tibetan people. Individual liberty and religious freedom are hallmarks of American values and USTC asks the American people and the US House of Representatives to join us in support of freedom in Tibet. Please contact your Representative today and ask them to support and pass H. Res 609. Please also contact your own state representatives and ask them to publicly express their support for human rights in Tibet.

---
TIBETANS join OCCUPY WALL STREET
.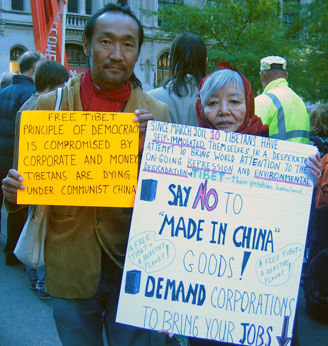 ---
THANK YOU COMMUNIST PARTY OF CHINA By Bhuchung D. Sonam
As a kid growing up in Tibet under China, the first song that I learned was The East Is Red... >>
---
XI IS NO DIFFERENT By Bhuchung D. Sonam
In his speech at the 60th anniversary of Tibet's 'liberation', Xi Jinping said, "We should fight against separatist activities... >>
---
Free Norzin Wangmo from International Tibet Network on Vimeo

Norzin Wangmo, 35, is a Tibetan mother of two from Ngaba, eastern Tibet. She is currently serving a five year prison sentence for the simple act of passing news via the internet and phone about the situation in Tibet.

Norzin Wangmo has been tortured during her detention and her exact whereabouts is unknown.

Please Take Action Now! www.FreeNorzin.org
---
SUPPORT IMMIGRANT VISAS FOR TIBETAN REFUGEES

(New York) - US-Tibet Committee (USTC) calls upon all US citizens who support Tibet to contact their Members of Congress and ask him or her to co-sponsor H.R. 1340 The Tibetan Refugee Assistance Act, a bill to provide for 3,000 immigrant visas for Tibetan refugees.

This bill was originally introduced last year in the 110th Congress but stalled in sub-committee. It has has been re-introduced in the 111th Congress by Rep. George Miller of California. It's currently in the House sub-committee that deals with immigration issues and has eleven co-sponsors and enjoys bipartisan support. However, this bill will need more co-sponsors if it is ever going to get out of sub-committee and to the House floor for a vote.

Please write to your Member of Congress and ask him or her to co-sponsor and support H.R. 1340 The Tibetan Refugee Assistance Act. You can find your Member of Congress at www.house.gov.
Please write to your Congressperson today!
---
CONGRESSIONAL-EXECUTIVE COMMISSION ON CHINA
Friday, March 13, 2009 Roundtable: "A Year After the March 2009 Protests: Is China Promoting Stability in Tibet?"
One year ago, a wave of protests began in Lhasa and swept across the Tibetan Plateau. At this CECC Roundtable, a panel of experts will discuss conditions in the Tibetan autonomous areas of China. The Chinese government over the past year continued to press policies that have stoked frustration among Tibetans, saying such policies are essential for stability. Have those policies served that objective? Has the dynamic between the Chinese government and Tibetans changed over the last year, and if so, how? What should U.S. policymakers watch for in the days and weeks ahead? MORE >>
Panelists include: Elliot Sperling, Tseten Wangchuk and Warren Smith.
---
A LOSAR GIFT FOR RANGZEN ACTIVISTS - Jamyang Norbu
Inside Tibet people have made the decision not to celebrate Losar this year. It appears to be not just an expression of sorrow... >>
---
PHILADELPHIA WELCOMES THE TIBETAN FREEDOM TORCH RELAY - On May 27, USTC welcomed the Tibetan Freedom Torch during it's global relay in the lead up to the Beijing 2008 olympics.
---
MARCH 10 NYC TIBETAN UPRISING DAY SERIES ON YOUTUBE - A film series of the March 10, 2008 demonstration in New York City, thanks to Same Day Fire Productions.
---
"FUTURE OF THE DALAI LAMAS AND TIBETAN DEMOCRACY" ON YOUTUBE - A film series of the "Future of the Dalai Lamas and Tibetan Democracy" panel discussion in New York City, thanks to Same Day Fire Productions.
---
RESOLUTION INTRODUCED IN NYC COUNCIL CALLING FOR REMOVAL OF GAMES FROM BEIJING

New York -- U.S.-Tibet Committee (USTC) is pleased to announce that on March 12, 2008, New York City Council Member Tony Avella introduced a proposed resolution (Resolution 1299) in the City Council calling for the removal of the 2008 Olympic Games from Beijing and calling upon all American businesses and corporations who have their headquarters in New York City or do business in New York City to review their financial dealings with China to ensure compliance with international human rights standards, and to withdraw sponsorship or support of the 2008 Olympic Games if they are held in China.

USTC has been working closely with Council Member Avella's office over several months to introduce this resolution in the City Council and was directly involved in the drafting of the text of the resolution. At present, four City Council Members have co-sponsored this proposed resolution. In order for this resolution to pass, it will need a majority of support from City Council Members.

USTC is asking all New York City residents and NYC-based Tibet support groups and Tibetan associations to contact their Council Member and ask him or her to co-sponsor Resolution 1299 in order to show solidarity with the peaceful protestors in Tibet and to condemn China for its brutal crackdown on innocent Tibetans.

USTC thanks Tom Weiss for his valuable assistance on this proposed resolution.
***
RESOLUTION 1299 - THE CITY COUNCIL OF NEW YORK
BY COUNCIL MEMBER AVELLA
Whereas, The People's Republic of China invaded the independent country of Tibet in 1949-50, and has committed "acts of genocide" according to the International Commission of Jurists; and
Whereas, On March 29, 2000, the New York City Council adopted Resolution No. 802, which recognized the sovereignty of Tibet (including the Tibet Autonomous Region and all Tibetan areas in Qinghai, Sichuan, Gansu and Yunnan Provinces) as an occupied country, stated that Tibetan people have the right to control their own economic development, and proclaimed that China should enter into good faith negotiations with representatives of the Tibetan government in exile; and
Whereas, The United States Congress has stated that Tibet, including those areas incorporated into the Chinese Provinces of Qinghai, Sichuan, Gansu and Yunnan, is an occupied country under the established principles of international law; and
Whereas, Between 1959 and 1965, the United Nations General Assembly passed Resolutions 1353 (XIV), 1723 (XVI) and 2079 (XX), calling for the cessation of practices which deprive the Tibetan people of their fundamental human rights and freedoms, including their right to self-determination; and
Whereas, In the past fifty years, China has engaged in systematic human rights violations in Tibet, including actions which constitute genocide or the attempted genocide of the Tibetan people, imprisoning and torturing hundreds of thousands of Tibetans, arresting arbitrarily, detaining without public trials, denying free speech and free press, and engaging in forced or coerced abortions and sterilizations of Tibetan women; and
Whereas, China has not complied with international law, including the International Covenant on Civil & Political Rights and the International Covenant on Economic, Social and Cultural Rights; and
Whereas, In 2001, the International Olympic Committee (IOC) selected China to host the 2008 Summer Olympic Games; and Whereas, China promised to improve human rights conditions in China and Tibet and allow greater media freedom prior to the start of the Summer Olympics; and
Whereas, According to Amnesty International and Human Rights Watch, China has not met its obligations to improve human rights in preparation for the Olympics, and human rights in both China and Tibet have actually deteriorated since China was designated as the Olympics host nation; and
Whereas, Reporters Without Borders has found that China has not allowed greater media freedom as promised, but in fact remains the world's largest prison for journalists; and
Whereas, In 2006, the United States State Department reported that serious human rights violations have occurred in Tibet, such as imprisonment and torture of political prisoners, denial of freedom of speech, religion and association, the forcing of monks and nuns to denounce His Holiness the Dalai Lama, and interference in the selection of Buddhist leaders, such as the Panchen Lama and Gendun Choekyi Nyima; and
Whereas, Other reports from human rights groups have found that China has forcibly resettled thousands of Tibetan nomads without their consent and without adequate compensation; and
Whereas, According to The Office of Tibet and Students for a Free Tibet, China continues to strip Tibet of its natural resources such as gold, copper, iron, timber, and minerals and transport these resources to China; and
Whereas, China has announced plans to divert important waterways from Tibet to China, such as the Yarlung Tsangpo River, which is causing severe environmental problems in Tibet and neighboring states; and
Whereas, The unrestricted influx of Chinese migrants to Tibet, often with government subsidies, is further marginalizing the Tibetan people, especially since the completion of the Gormo-Lhasa Railway, and threatens to make Tibetans a minority in their own homeland; and
Whereas, The IOC rejected Tibet's request to enter its team in the Summer 2008 Olympics; and
Whereas, Many American corporations with headquarters and operations in New York City sponsor the Olympic games and have financial dealings with China; and
Whereas, The rights of the Tibetan people in their struggle for human rights, economic justice and self-determination must be acknowledged and respected; now, therefore, be it
RESOLVED, That the Council of the City of New York calls for the removal of the 2008 Olympic Games from Beijing; and, be it further
RESOLVED, That the Council of the City of New York calls upon all American businesses and corporations who have their headquarters in New York City or do business in New York City to review their financial dealings with China to ensure compliance with international human rights standards, and to withdraw sponsorship or support of the 2008 Olympic Games if they are held in China.
---
---
THE CHINA-DALAI LAMA DIALOGUE: PROSPECTS FOR PROGRESS - The Congressional-Executive Commission on China held another in its series of staff-led Issues Roundtables, entitled "The China-Dalai Lama Dialogue: Prospects for Progress" on Monday, March 13

The panelists were: Tashi Wangdi, Representative of His Holiness the Dalai Lama to the Americas, Office of Tibet, New York; Sonam Wangdu, Chairman, United States Tibet Committee (USTC); and Tseten Wangchuk, senior broadcaster, Voice of America, Tibetan language service.
---
A STATEMENT BY PHUNTSOG NYIDRON - On March 14, Phuntsog Nyidron, the last of the Drapchi 14 nuns to be released from prison, arrived in San Francisco from Beijing. The nuns received extensions on their prison sentences for recording a tape of freedom songs and smuggling it out of the notorius Drapchi prison. Although Phuntsog Nyidron was officially released in February 2004, she was put under house arrest and has suffered debilitating health problems as a result of the torture she received during her 15 years in prison.

Click here to read a statement by Phuntsog Nyidron after her arrival in the US. MORE>>
---
TENZIN DELEK RINPOCHE IS SPARED- On January 26th, Chinese authorities commuted Tenzin Delek's death sentence, thanks to your efforts!! MORE>>
---
THE 9-10-3 PROJECT - The Voices and Visions of Unsung Heroes. MORE>>
---
BOYCOTT GOODS MADE IN CHINA - On Saturday, December 7, 2002, Tibetans and supporters launched an international Boycott Made in China campaign designed to level economic pressure on the Chinese government to end its occupation of Tibet. MORE>>
---
The U.S. Tibet Committee | 241 East 32nd Street | NYC 10016
tel 212 481 3569 | ustc@igc.org
[ back to top ]


DONATE TODAY

Sign up for email updates!
---
---
[ quick links ]